Ingrowing Toe Nail Service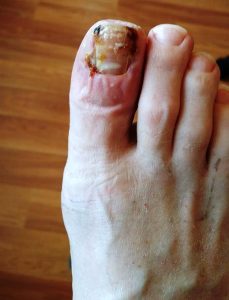 Here at Kidderminster Foot Clinic we run a dedicated Ingrowing Toe Nail Service. We have years of experience in dealing with problem nails and we'll be able to advise you on the best treatment for your painful nail.
Ingrowing or just Pinching?
Sometimes it's not obvious if you have an ingrowing toe nail or one that is just pinching but doesn't look like an ingrowing toe nail.
Get in touch now for your initial consultation and we can decide what the best course of action is for you. Alternatively you can book an appointment directly using our online booking system.
Scared of Surgery?
We can advise on the best treatment for your nail problem. This does not always involve surgery. If nail surgery is required then you'll be in safe hands. Our procedure is carried out with minimal trauma and maximum comfort for you, the patient.
Find out more about nail surgery in this video: